Among other things, we prepare the awards for our main partner Design Terminal for its two annual mentoring programs, keeping the permanent graphic designs, working with different design designs and material combinations every semester.
It is especially great to have been able to work with a team for whom cooperation with Hungarian designers is extremely important:
"The Design Terminal strives to support Hungarian entrepreneurs, we also keep this aspect in mind when choosing a product." (Design Terminal, Miklós Sári)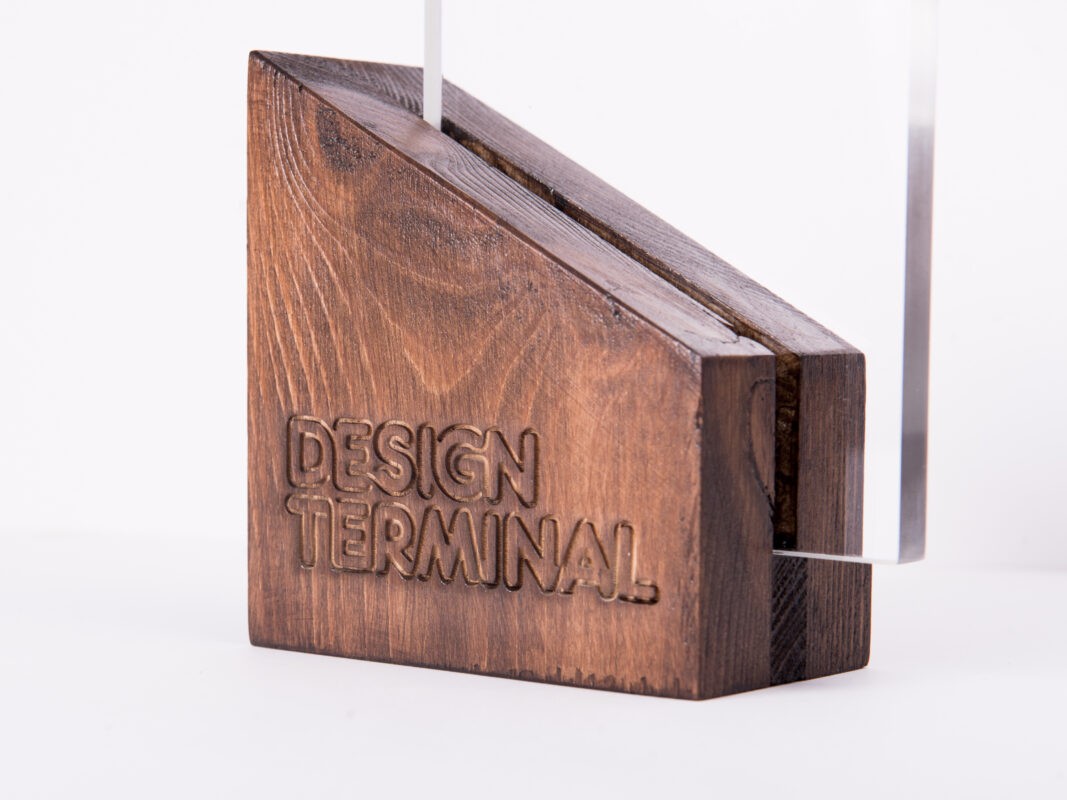 The program provides professional help specifically for startups, those who cherish emerging business plans, and supports solutions for a sustainable future. Participants gain business knowledge, meet relevant representatives of the profession while being part of a super community. The "The Most Improved Startup" title was won by the Food Rescue, and the "The Most Inspiring Mentor" was won by Zoltán Vardy – he shared the latter news with his followers on the Facebook page of the Design Terminal. We consider it important and an honor for us to have a cooperation that supports emerging Hungarian companies and good causes.
Stained wooden plinth, water-clear acrylic and a breath-taking layer of concrete at the awards for the autumn semester 2021
The graphic designs of the objects were made in collaboration with their graphics, which were made of clean, timeless materials. The logo of the Design Terminal was placed on the pickled wooden pedestal, followed by a clear acrylic plate with an engraved inscription. Of course, the concrete also appears, giving the pieces an elegant look, as a very thin concrete texture has been placed on the acrylic plate, in which the inscription appears negatively.
This combination of materials was not foreign to us, as we used this combination of materials at the Property Investments Awards during 2020, for the first time we used our own super-thin concrete coating on trophies for this project. The spectacular and unique solution has attracted the interest of many, we are glad that we were able to incorporate this design in another project.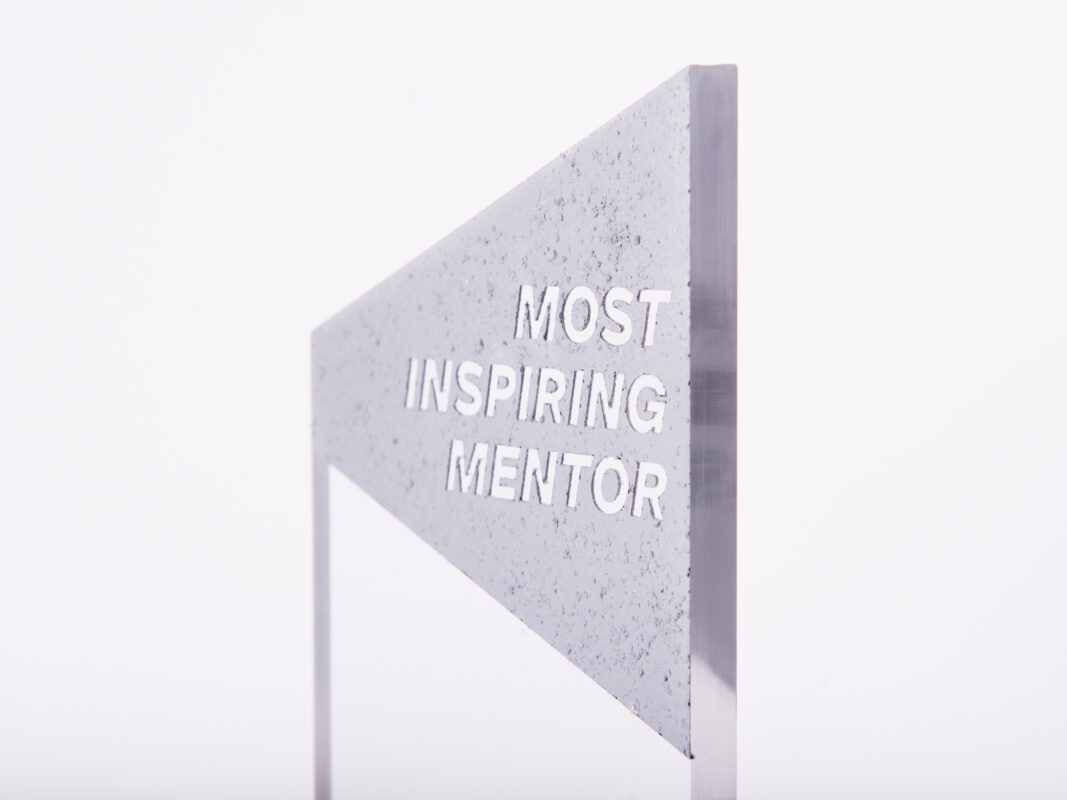 Prizes combined with a plant for the prize winners of the 2022 spring semester
It seems that we and the customer have a similar idea regarding the prizes and we think this is the case as well. DT's employees envisioned moss or lichen "planted" in concrete as a starting point, and we had just such blueprints in our pockets. The awards of the mentoring program for the spring semester of 2022 are completely different in character from the previous objects. We solved the combination of concrete with plants with preserved lichen, keeping in mind the afterlife of the object and the freedom from maintenance.
Icelandic lichen is becoming more and more popular among interior designers, architects, interior decorators, it can be seen on the walls of interiors, offices, plazas, as a wedge of maintenance-free green walls, but there are also places where texts or graphic elements appear with such a lichen surface.
Either way, we definitely achieve an exciting, close-to-nature effect with it. A water-clear acrylic sheet with stainless steel spacers is placed in front of the concrete surface combined with lichen. The inscriptions appeared on this acrylic surface.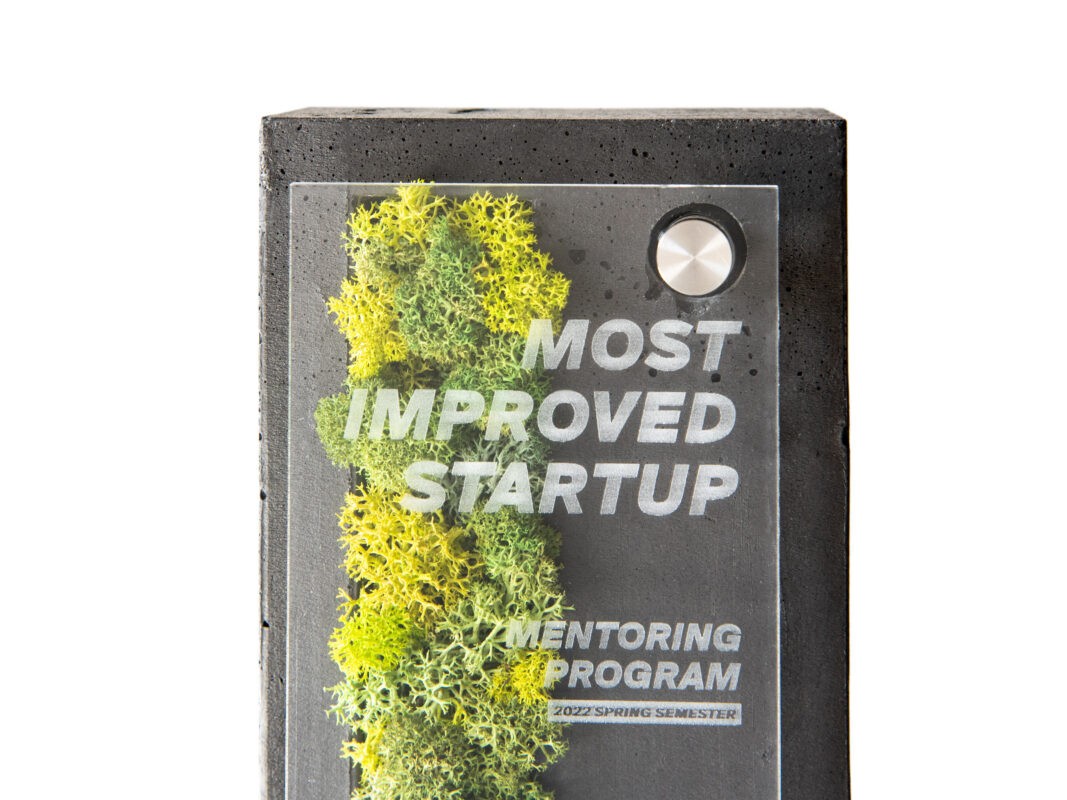 It is always a pleasure for us to work with the Design Terminal and it is an honor that they turn to us with similar satisfaction and trust:
"We have worked together on other projects several times. Originally, I don't know how the two companies met, but now it's almost clear that we're asking for AB Concrete design work for one of our projects." (Design Terminal – Miklós Sári)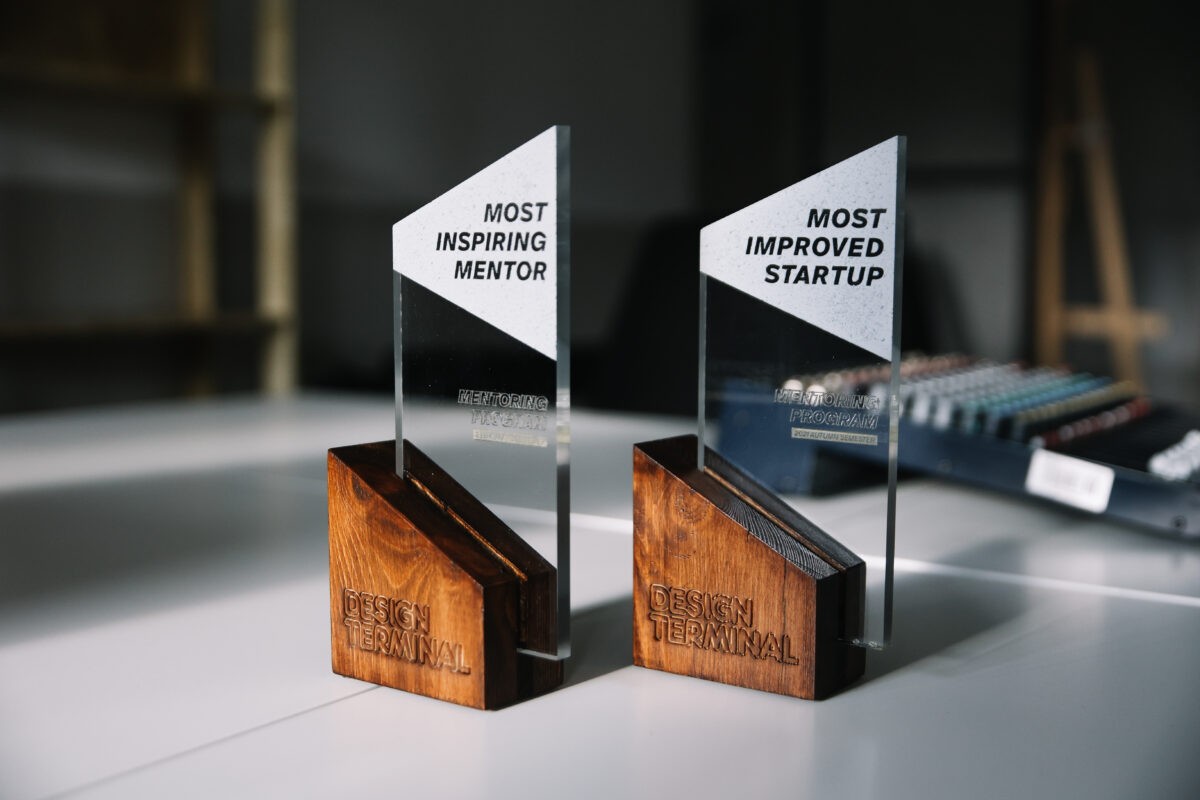 What occasion can I order a designer trophy for?
It could be professional or sporting competitions, corporate celebrations, a souvenir of the completion of a successful project, a gift from staff to recognize a distinguished anniversary or outstanding achievement, or a leadership gift.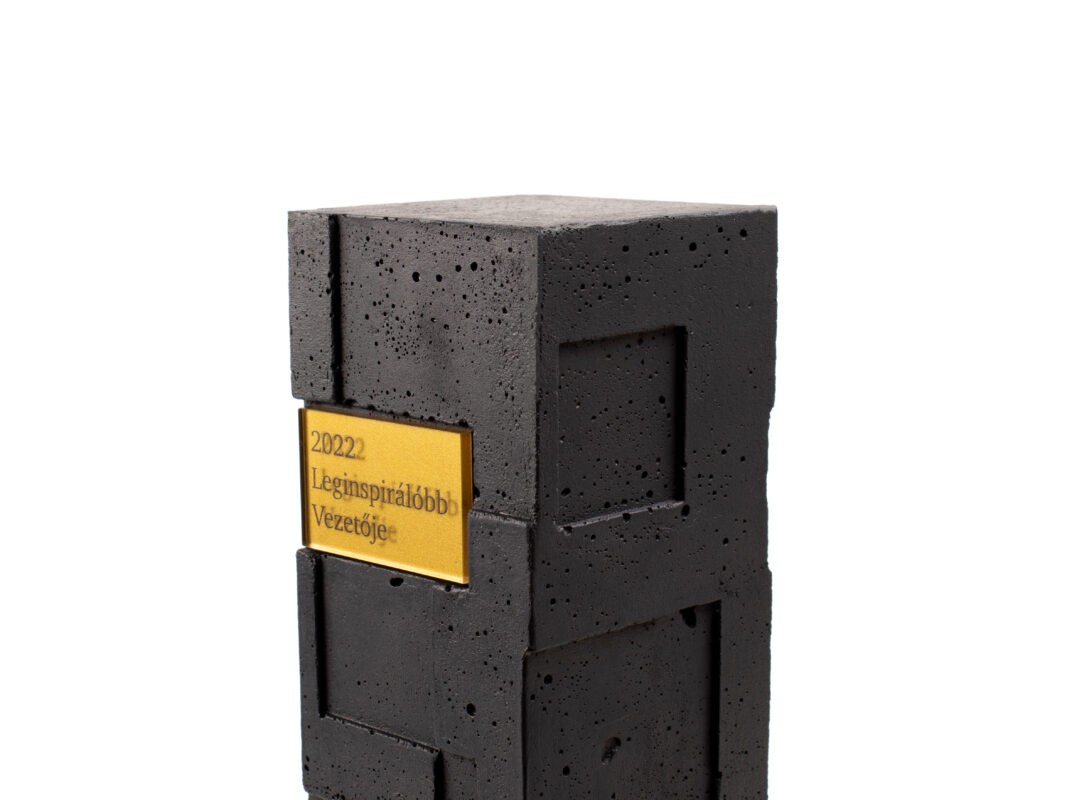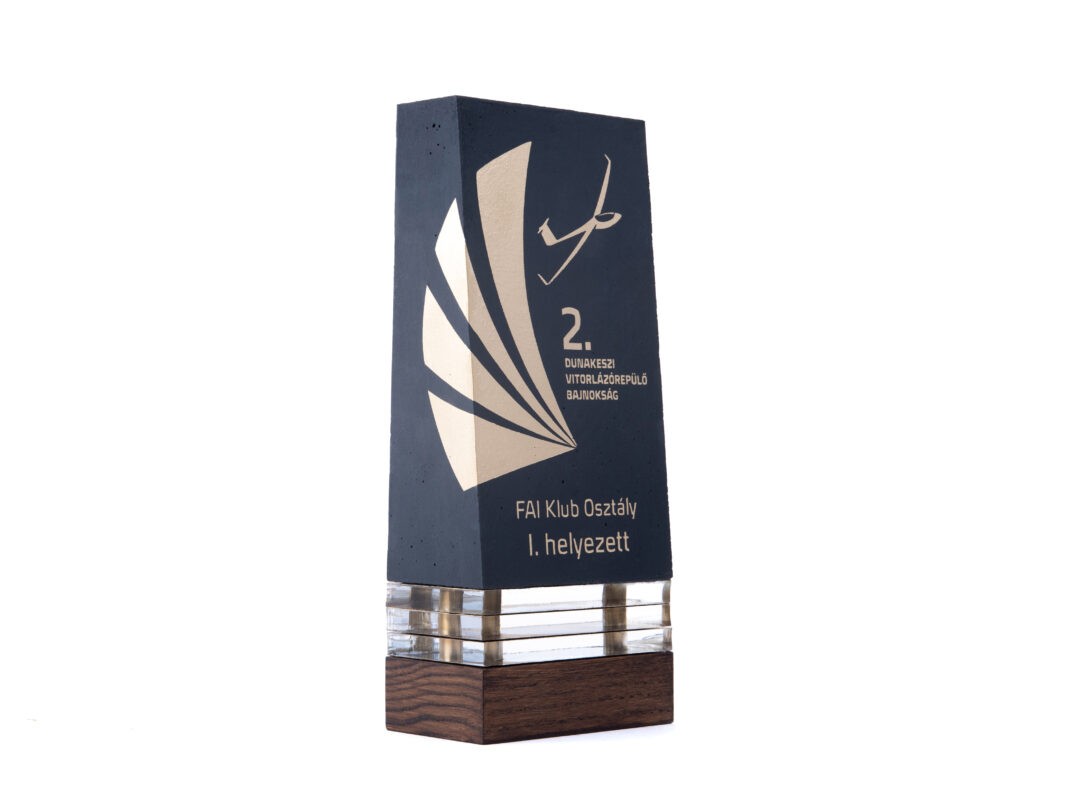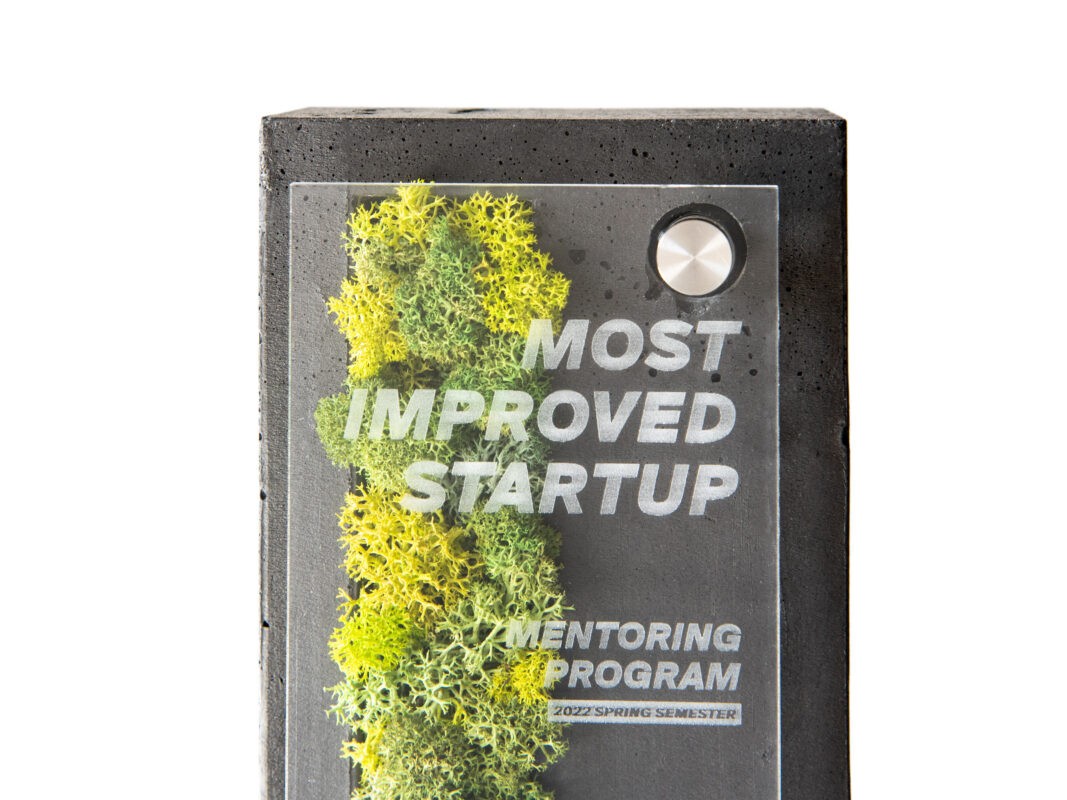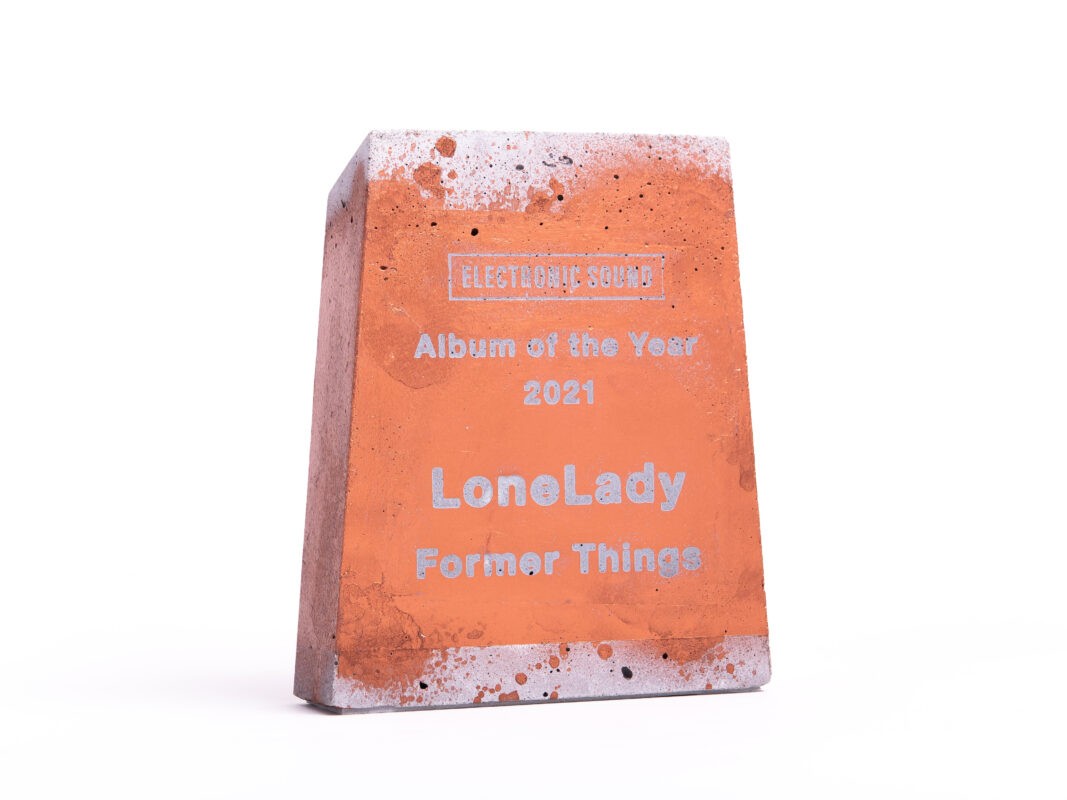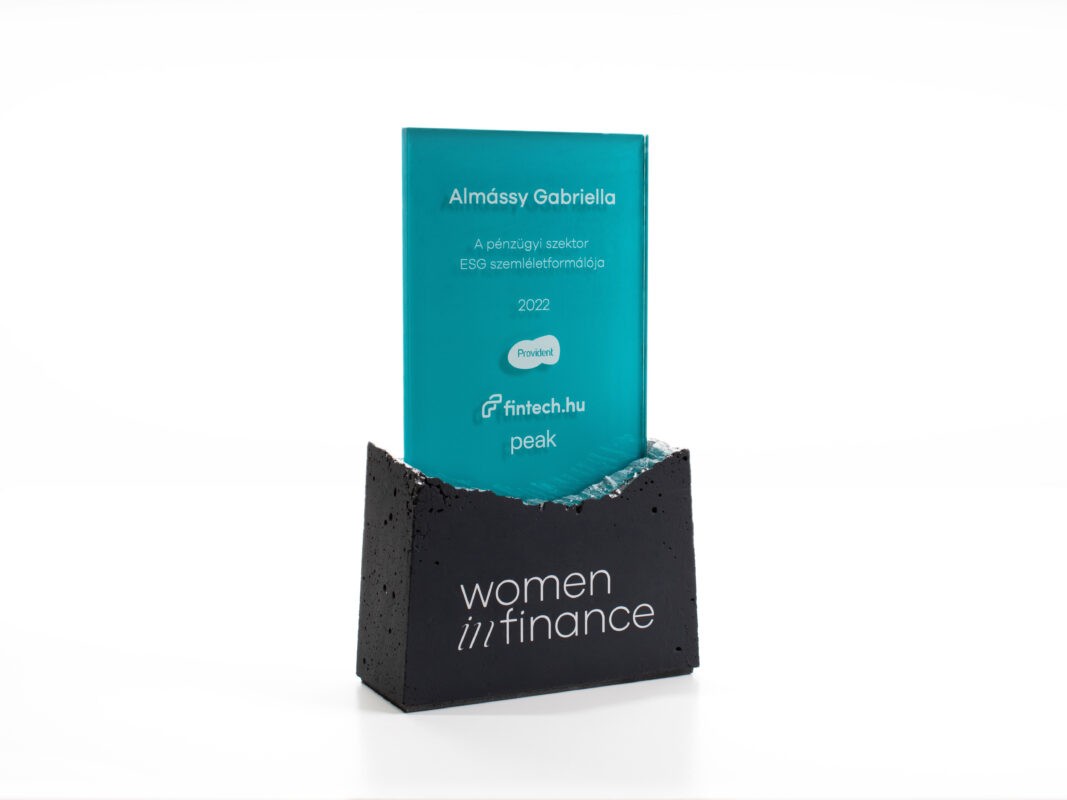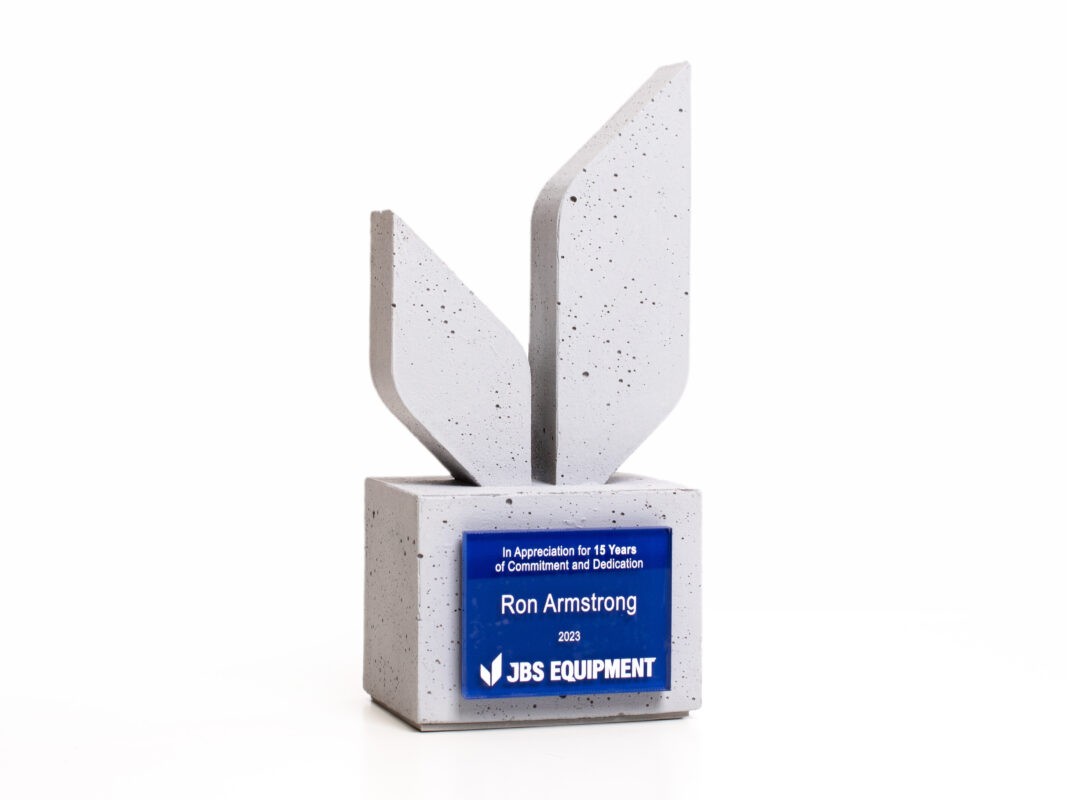 We dream trophies and souvenirs together with our customers. We find the solution for every idea, and our creativity provides added design value. Thanks to our experience in material associations, in addition to high-quality professional concrete, we also use a number of additional materials.
You can read more about trophies and awards here.