Concrete Business Card and Photo Holders
Simple and practical desk accessory that fits perfectly into a modern or traditional office.
Durable, timeless design that can be an important addition to a desk for decades. If you are looking for a gift for your clients or partners that will be in view every day, stealing the heart of tis owner with its minimalist lines and essential function, you are in the right place.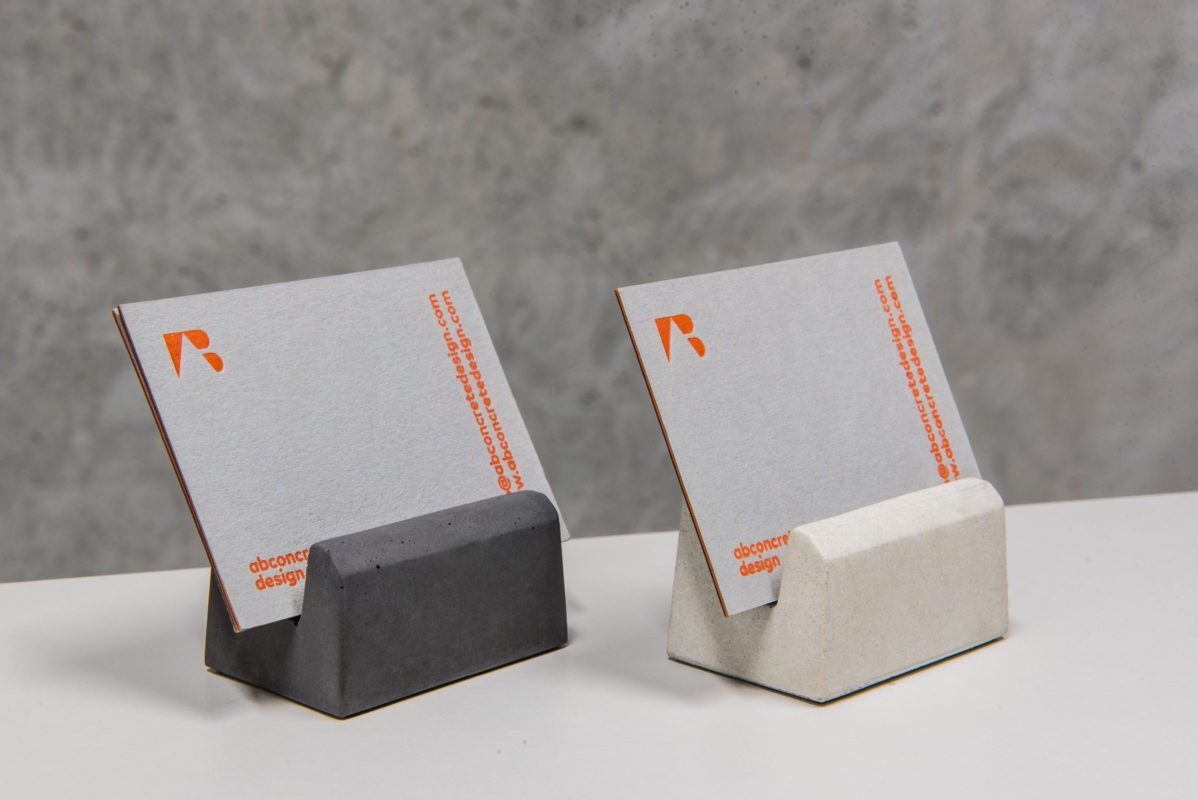 Beyond the world of desks and offices, our concrete desk organizer can be a great accessory!
At events or weddings, as a guest gift, it can be an exciting desktop accessory, replacing the name cards. Our business card holder is available in three classic concrete colors (white, gray and anthracite). You can choose from a stylish cardboard box or cardboard ribbon. Both colors are tailored to your company's visual identity. And your business logo can be put on the concrete or on the packaging – just the way you want it.
Concrete Photo Holder – Extra features with a simple addition
A timeless gift in the name of sustainability
For your teammates with the best photos of the team building training, for your partners with a nice message or postcard – this will make this gift truly personal. The giver is free to decide what to put in the crate, at their own discretion, and to remind the new owner of the giver. A durable and long-lasting item that will surely be in use for many years, representing your company or special event for years. And you can even do for the environment: the gift will not end in the trash, because of the removable picture, but will be in use for decades.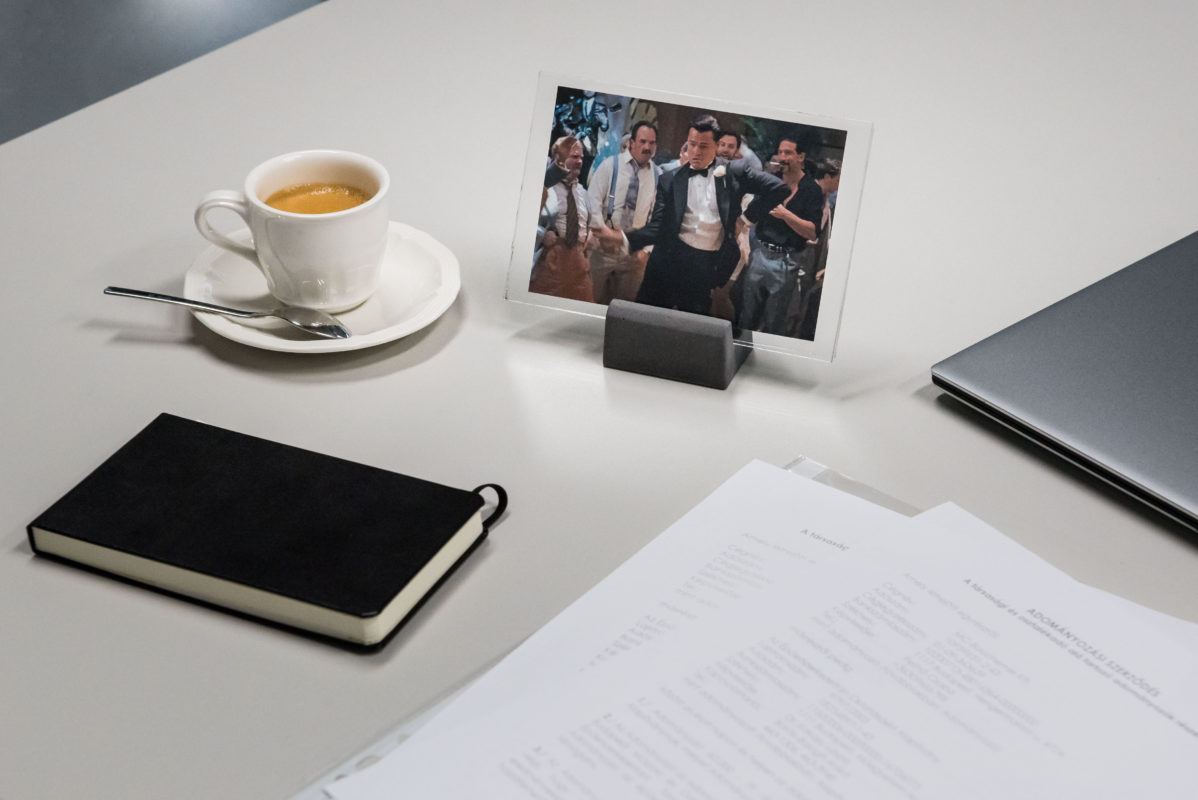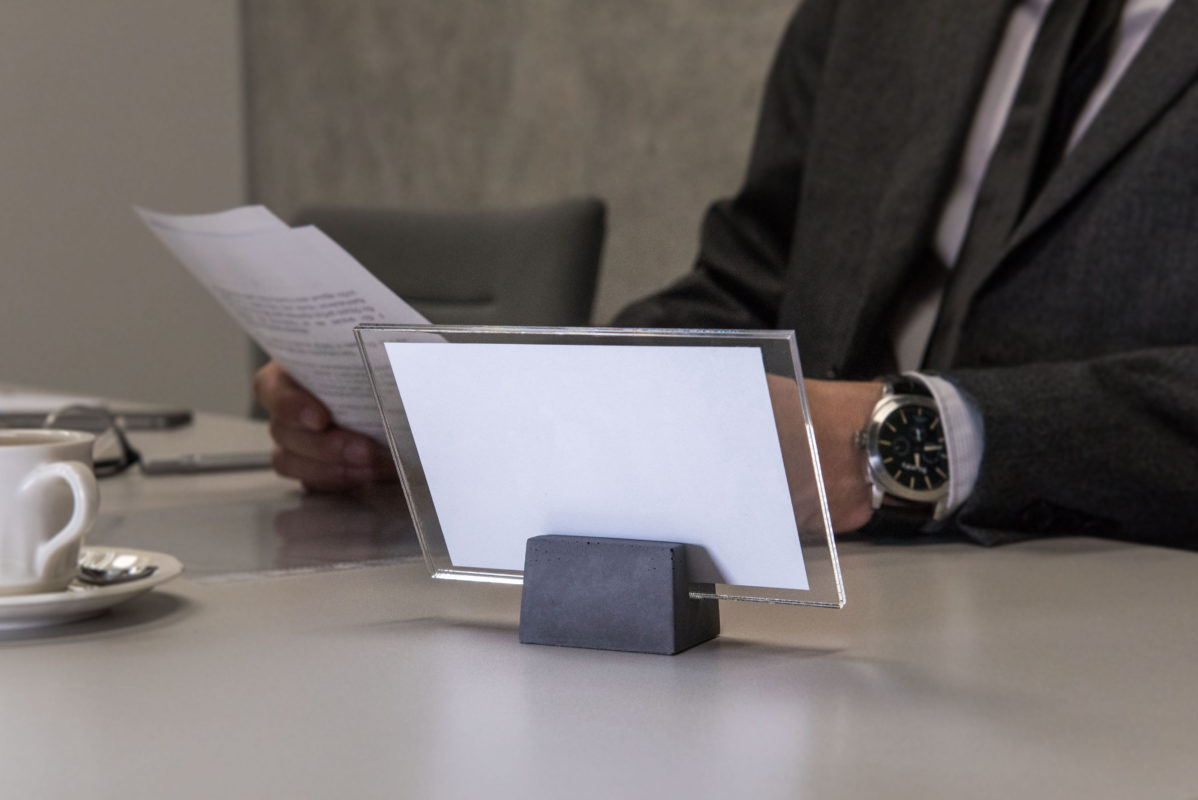 A simple and practical accessory that can be a special decoration for an office desk, a conference table or in a living room.
Thanks to its clean design, it fits well into any style of home or office.
BASE business card holder and picture frame
Smaller size and a slightly more solid version, available in three basic concrete colors. Depending on your needs, the logo or other design can be placed on concrete, acrylic sheet or even on the packaging. You can choose the picture holder with cardboard bound or in small paper bags.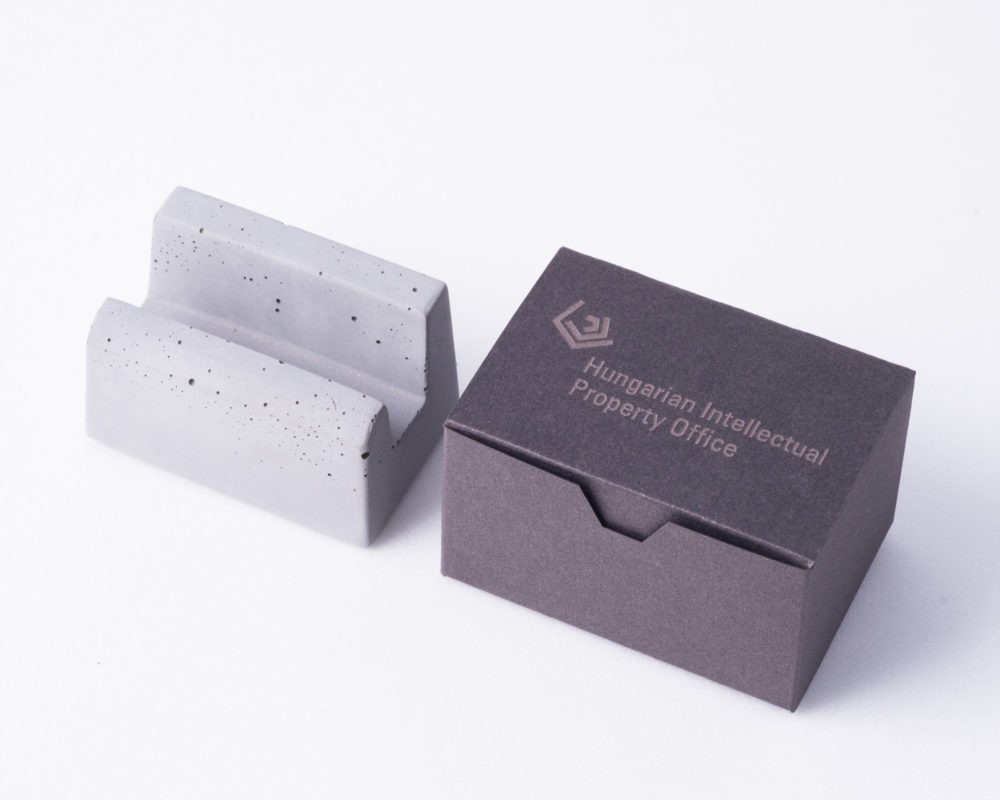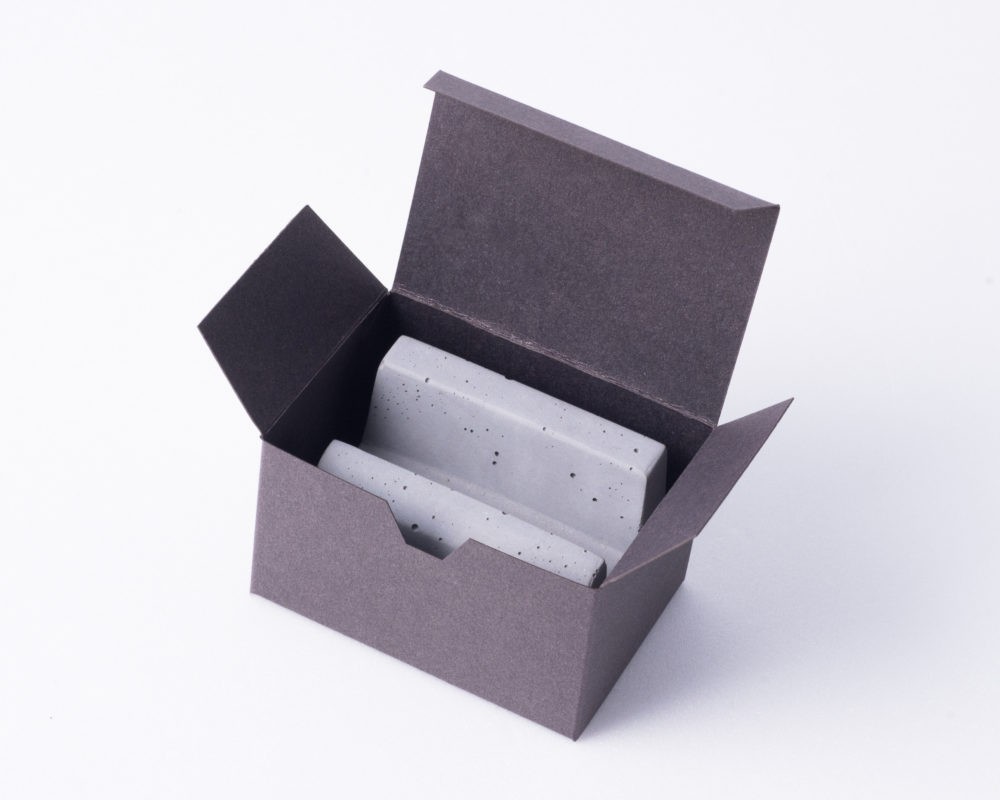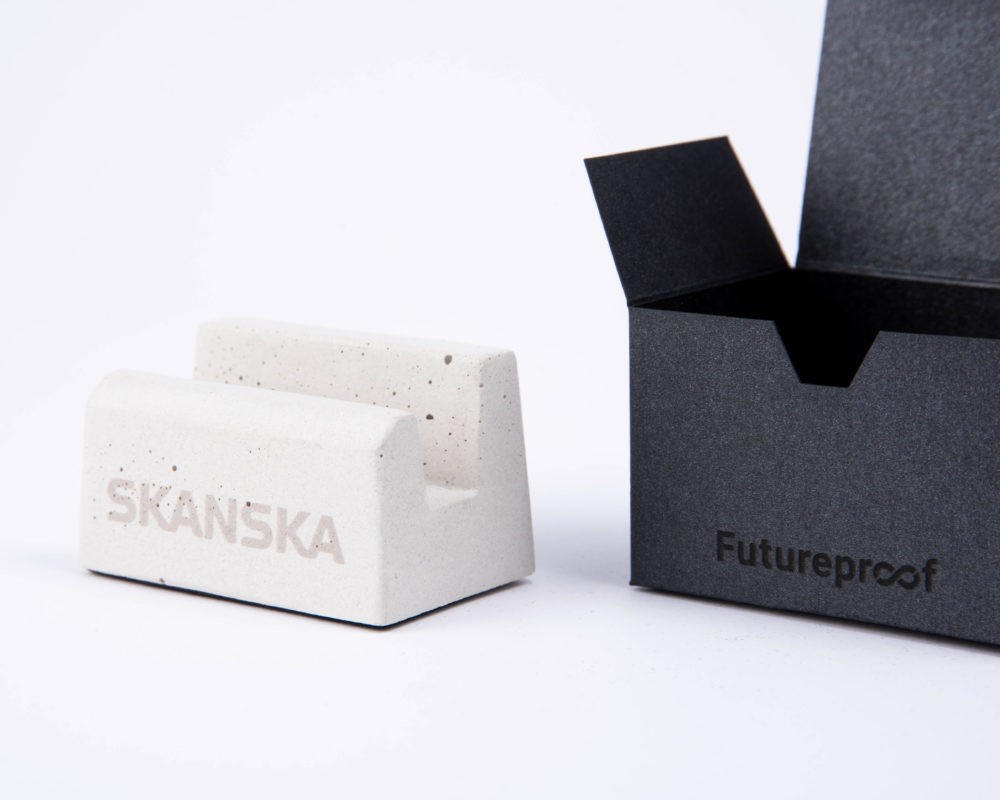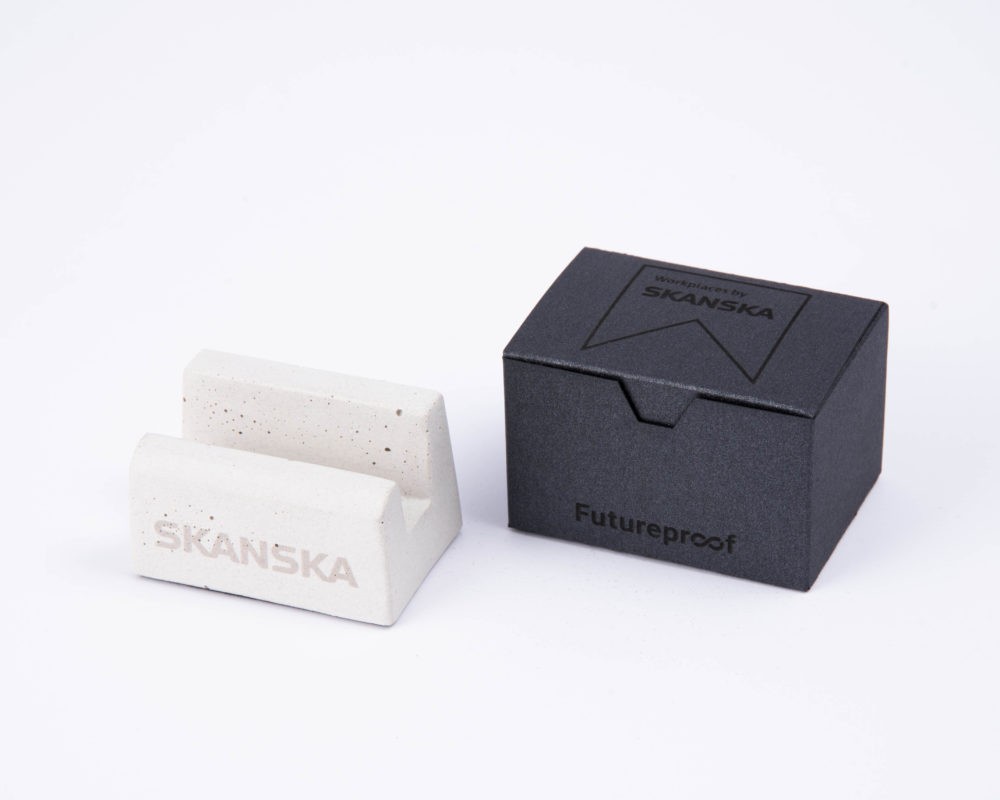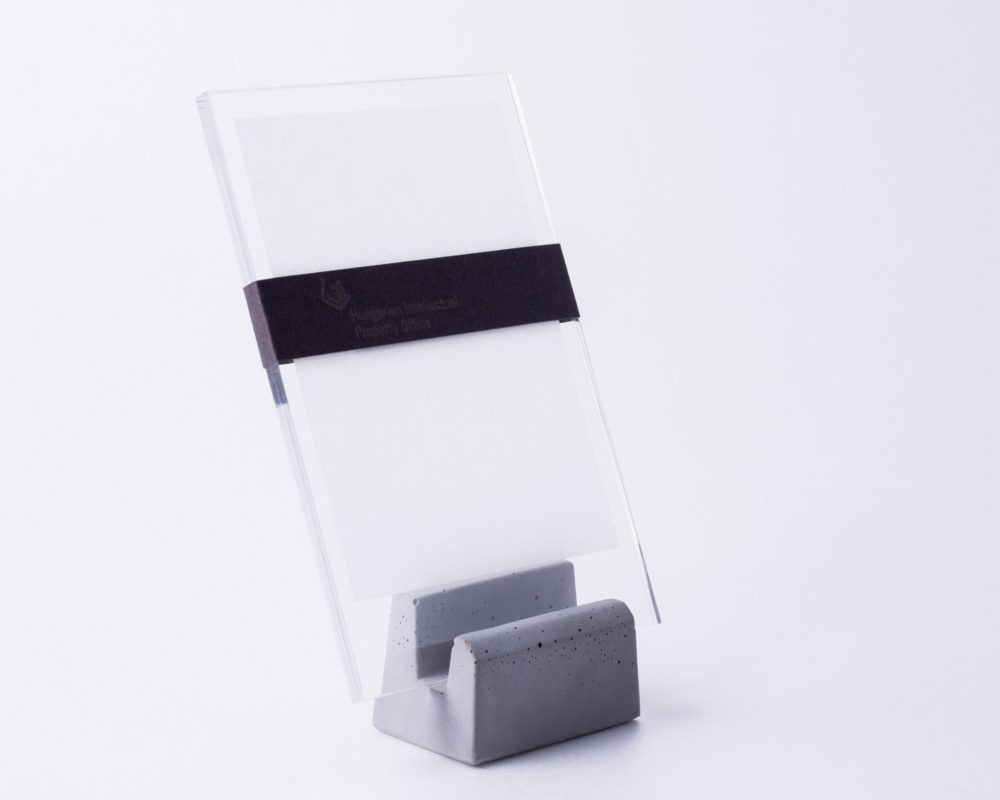 Can the acrylic sheets of the picture holder be branded?
This is also possible! Since the image can be placed between two acrylic sheets, according to the function, it is enough if only one of them is clear. We can produce the other plate in several colors to match the visual identity, and we can display any logo, inscription or graphic on this interface.
Is it also possible to have a packaging design ready?
We can also packaging with ready-to-use graphic design. If you have your own graphic artist, he or she can also design the box: we'll send you a packing plan, your graphic designer need to send us back the ready-to-use version, so you can get your concrete gifts with your own design.
CUBO business card holder and picture frame
Choose the minimal style CUBO that can also be found in our webshop. It is available in two sizes with 10×15 or 15×20 cm acrylic sheets.
CUBO TERRAZZO – endless variations of mixing colors
The colors of your company's visual identity can also appear with exciting colored glass, mineral or concrete pieces, mixed into the concrete. Thanks to the recently  very popular technology, each piece is unique and unrepeatable. And success is guaranteed!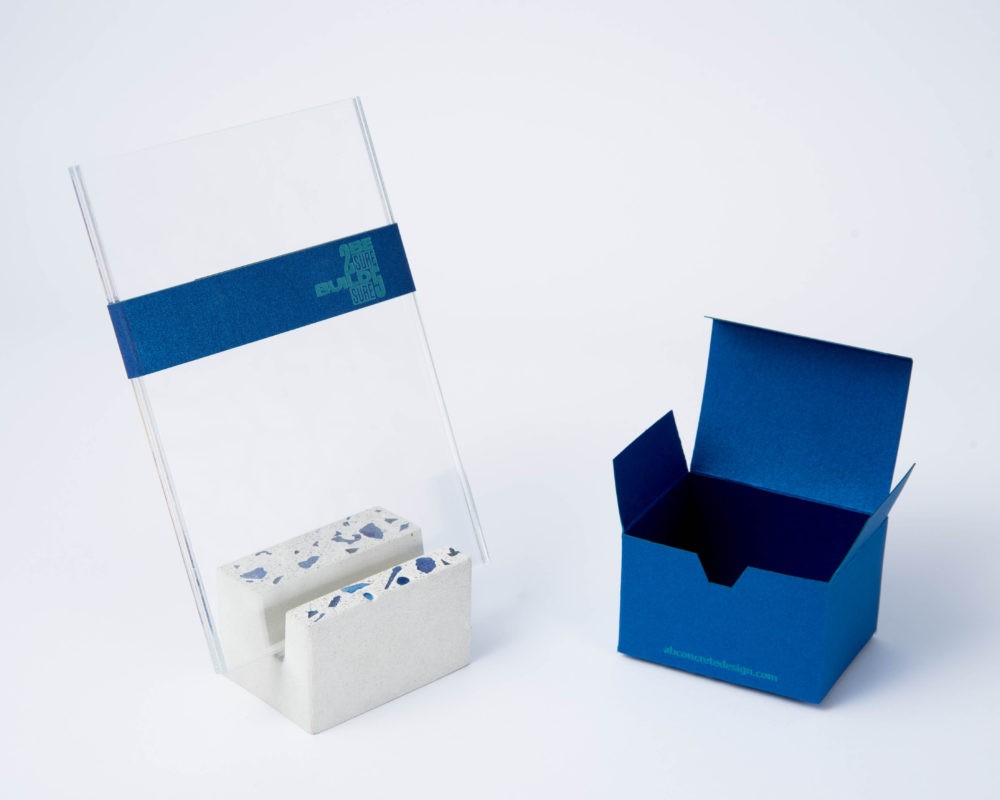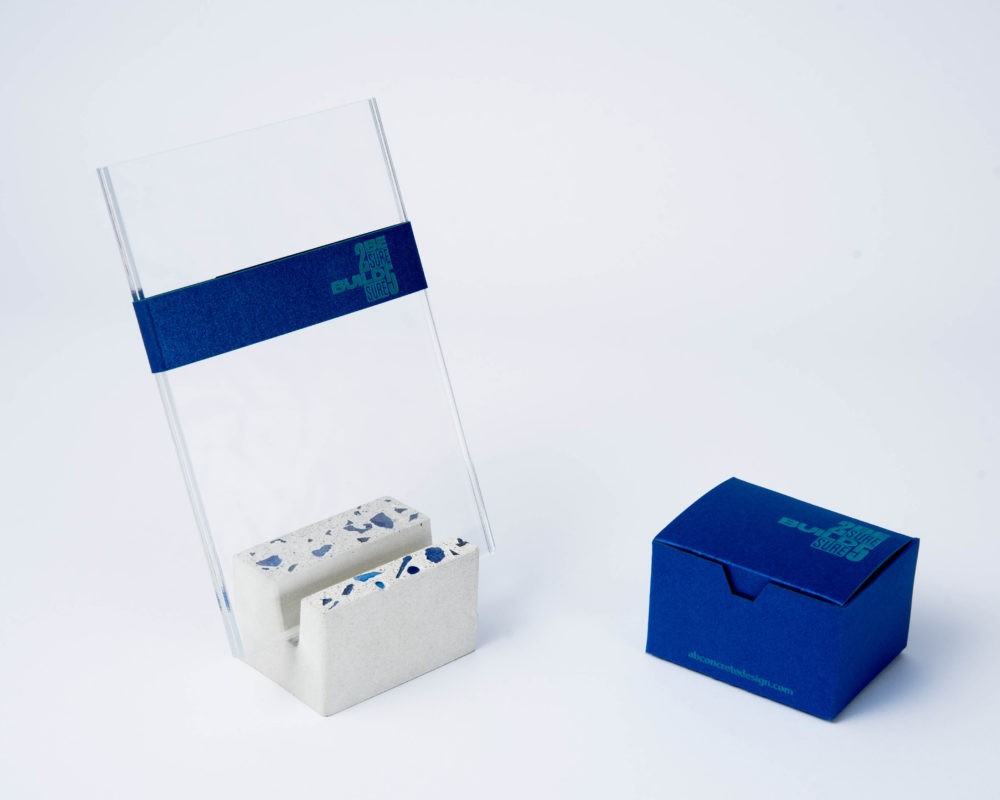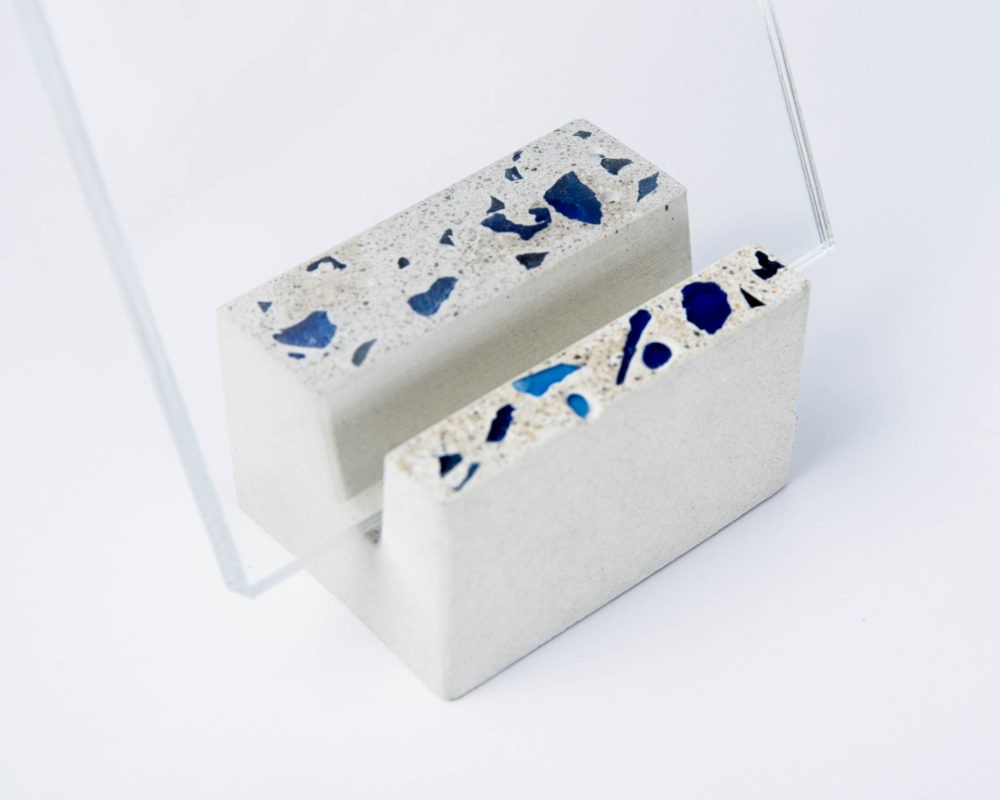 Some examples form our custom made concrete business card
and photo holder projects
AB Concrete Design & Gifts
is Hungary's leading design concrete studio, founded in 2012 by Anita Boldog. Many years of experience, experimentation and research are behind us, and still being part of our everyday lives. This strong professional background ensures the manufacture of high quality design gifts and products.
ARCHICON collection - The brief story..
The ARCHICON corporate gift collection was born in 2016, during the scholarship time of our founder designer at László Moholy-Nagy Design Grant in which she studied business partner gift culture. For corporate customers, we provide
concrete partner gifts
and unique design solutions. With our professional technology reproduces even the finest lines. We can display any logo, graphic or inscription with maximum accuracy and aesthetics on concrete or packaging, too. Thanks to our production background, we can easily fulfill orders up to hundreds of pieces. Our customer base includes not only construction companies and architectural firms, but also public institutions, organizations, universities and event management companies.
You can
find the complete coporate gift product range here
. For a custom price offer, please contact the designer directly at
[email protected]
. Also worth to visit our
webshop
for many more colorful concrete gifts and products!
see the full range of our corporate gift product line!
Previous branded business card and photo holder projects for companies