Custom Made Concrete Cufflinks
For many decades, the cufflink has been a truly personal, unique addition to men's clothing. In recent years, more and more people wear this accessory again to carry an exciting twist on their clothing.
Our men's accessory can be the perfect gift for your key partners, important clients or your colleagues. If you are looking for a product that does not end wasted, you have found the right one!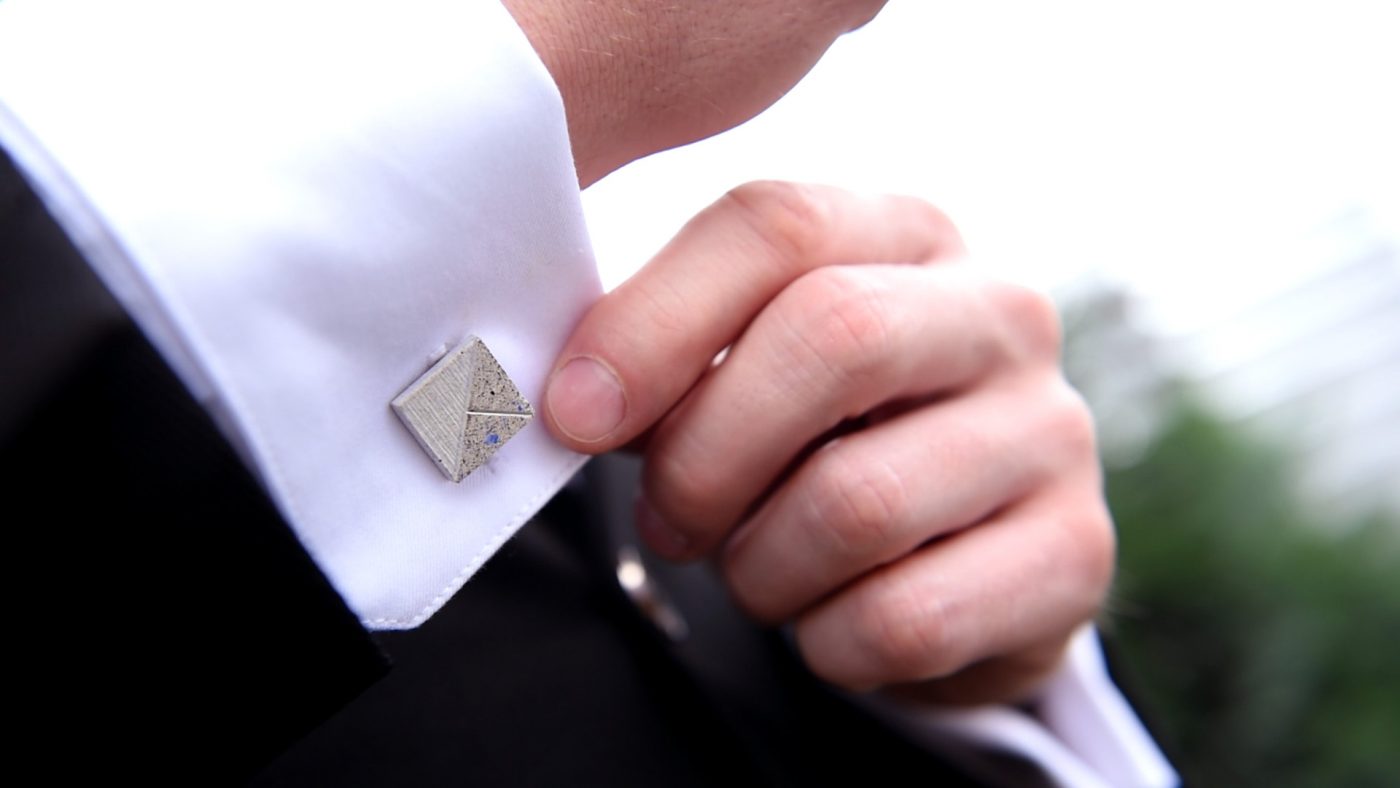 Personal and timeless gifts
We follow the evolution of corporate gift culture: in recent years, it has become more common to have the logo or label only on the packaging. If you surprise your customers with a memorable gift, there's no need to have the logo on the gift – it will be an eternal memory without the logo on them.  They will love to wear them. Design cufflinks are usually worn on special occasions, so a close relationship can be established between the items and the recipient. This will make them like to think about the giver, which can be a tool for branding, too.
Packaging that doesn't end up in the trash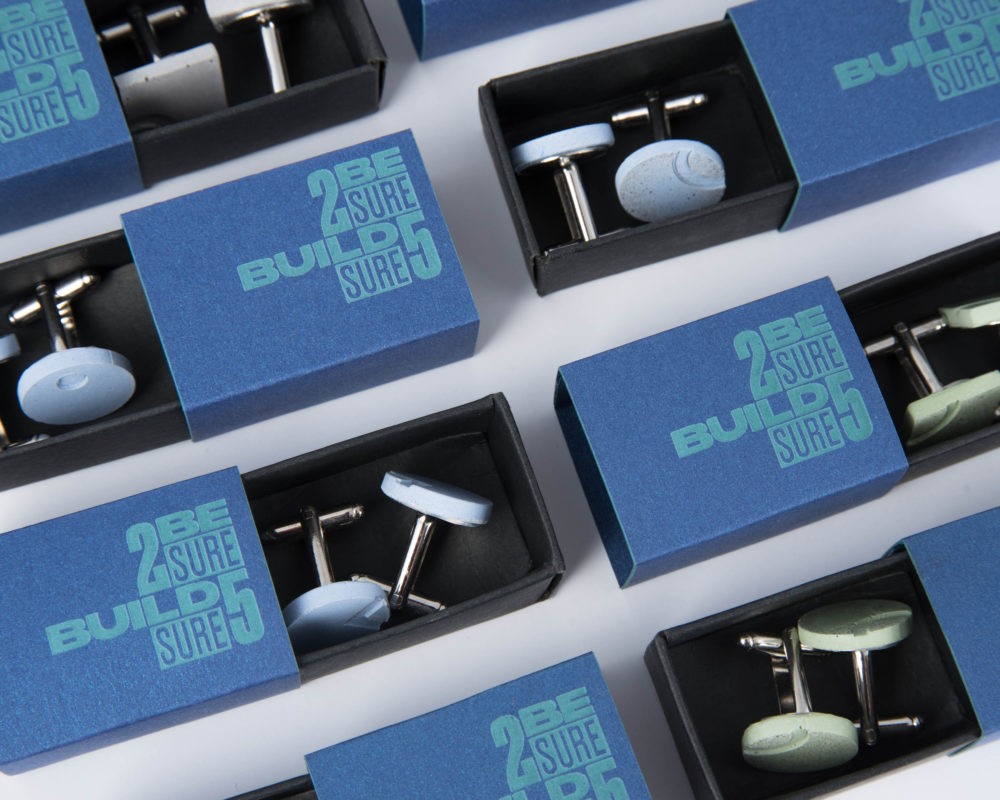 We all know the exciting moments before opening a gift, where packaging also plays a big role. It must be perfect as the first impression is unrepeatable. We have countless packaging solutions because it is important for us that packaging doesn't end up in the trash.
We work with high quality cardboard and various techniques so your logo can be displayed gently and elegantly on a lasting and elegant surface – we pay the same attention to the product and the packaging.
According to our customers 'feedback, the cufflinks' gift boxes remain in use as long as the buttons themselves: the recipients continue to store the concrete accessory in them.
Is it also possible to have a packaging design ready?
We can also packaging with ready-to-use graphic design. If you have your own graphic artist, he or she can also design the box: we'll send you a packing plan, your graphic designer need to send us back the ready-to-use version, so you can get your concrete gifts with your own design.
I would like to present our male and female partners with design concrete jewels.
Jewelry is the perfect choice for all your partners. We have worked on several orders where we made cufflinks for male partners, necklaces, earrings or jewelry sets for ladies. We can coordinate the packaging of different concrete jewelry, and you can request corporate gifts in exactly the same or different gift boxes.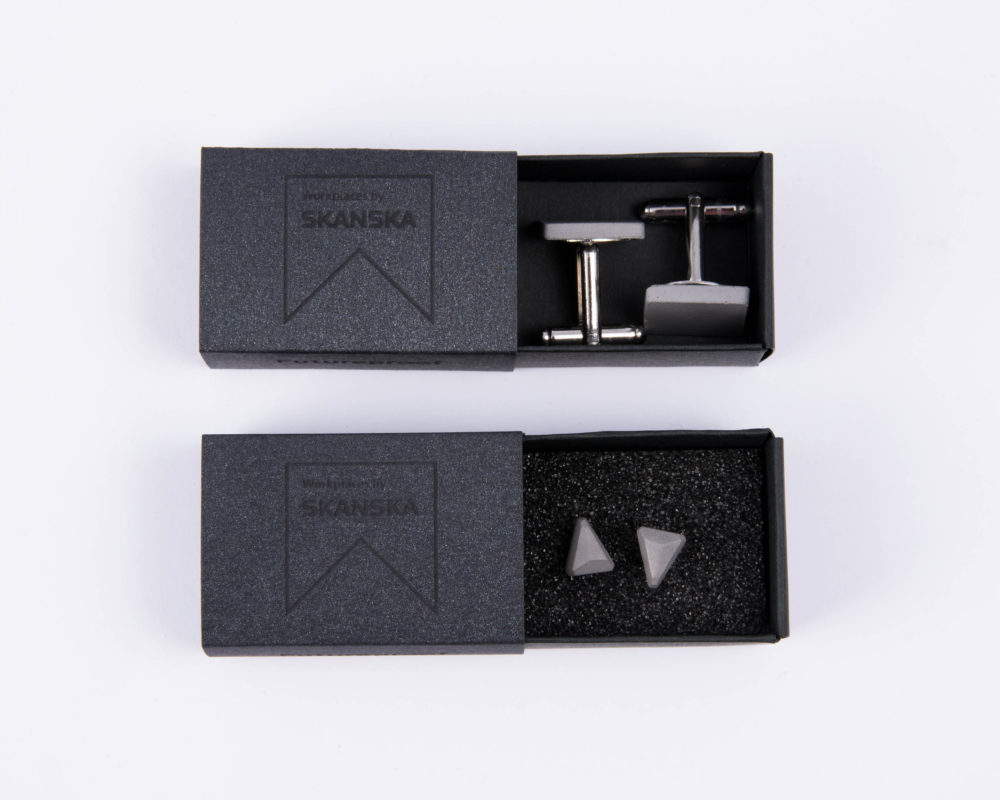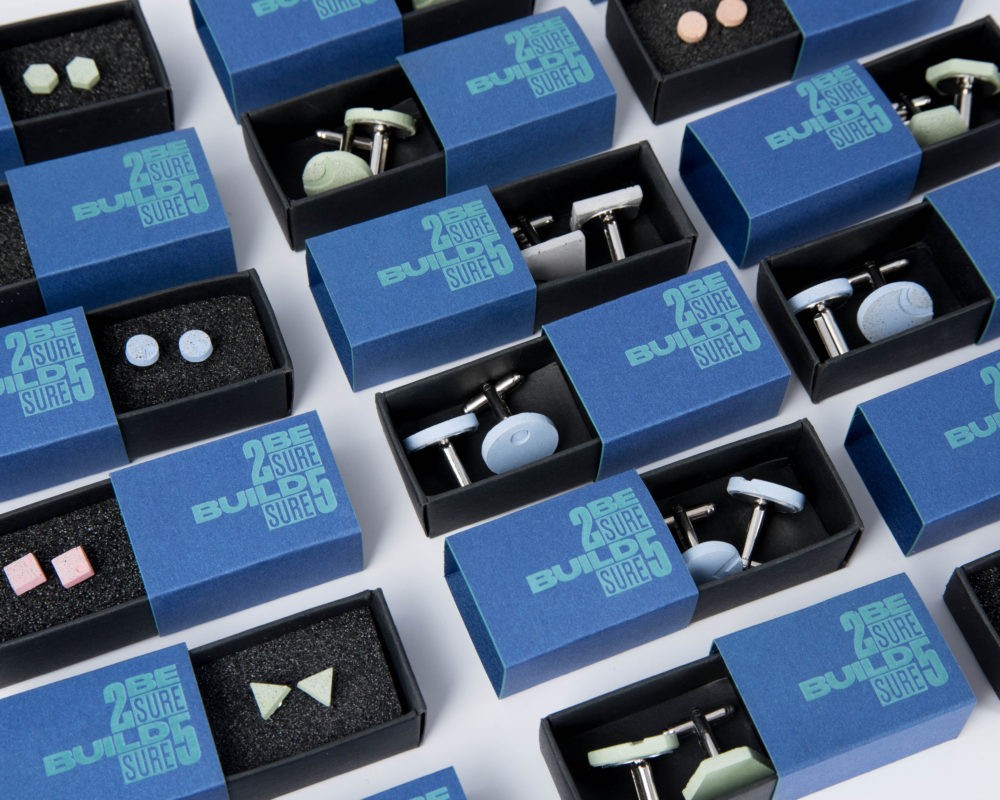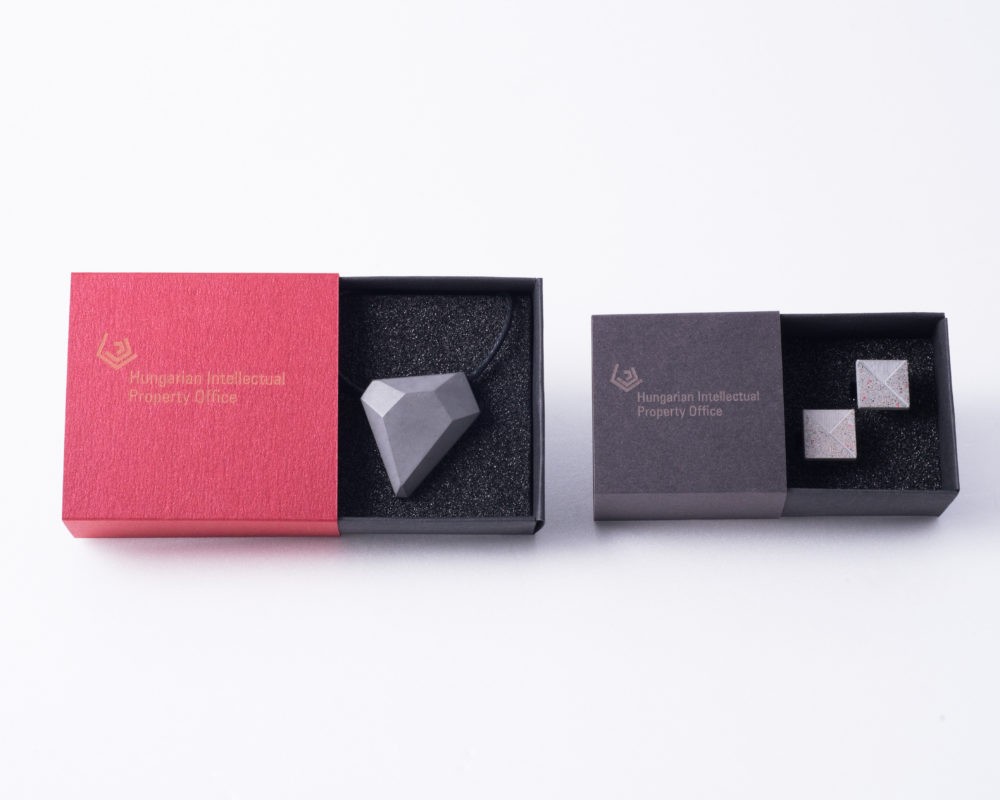 Our concrete cufflinks are produced in two different styles, and they come in three classic concrete colours (white, grey, and anthracite), with two different surfaces (polished and unpolished). 
With our finest detail rendering technology, we can display a pattern or your business logo in many different version, or even with colored painting. Our products are made with accessories made of hypoallergenic, silver coloured, stainless steel, so they are safe and comfortable to wear for everyone.
Our cufflinks are available in a variety of packages to suit the customer's requirements and the occasion. Both the logo and the color of the cardboard are implemented as requested by the customer. For the unusual and form-breaking concrete gift boxes, the logo can be placed on the concrete box, on the wooden or plexiglass cover, or on a cardboard tape.
TERRAZZO cufflinks – exclusive gifts for your most important clients
The terrazzo accessories make the dark gray, smooth surface of concrete exciting with playful, vibrant yellow particles mixed into the material. The different patterns and polished surfaces provide fans of design and concrete different possibilities – they are the perfect finish to creative man's outfit who is open to novelties and extreme solutions. You can also choose from the designer cufflinks from our webshop, which are also available in unique, customized packaging.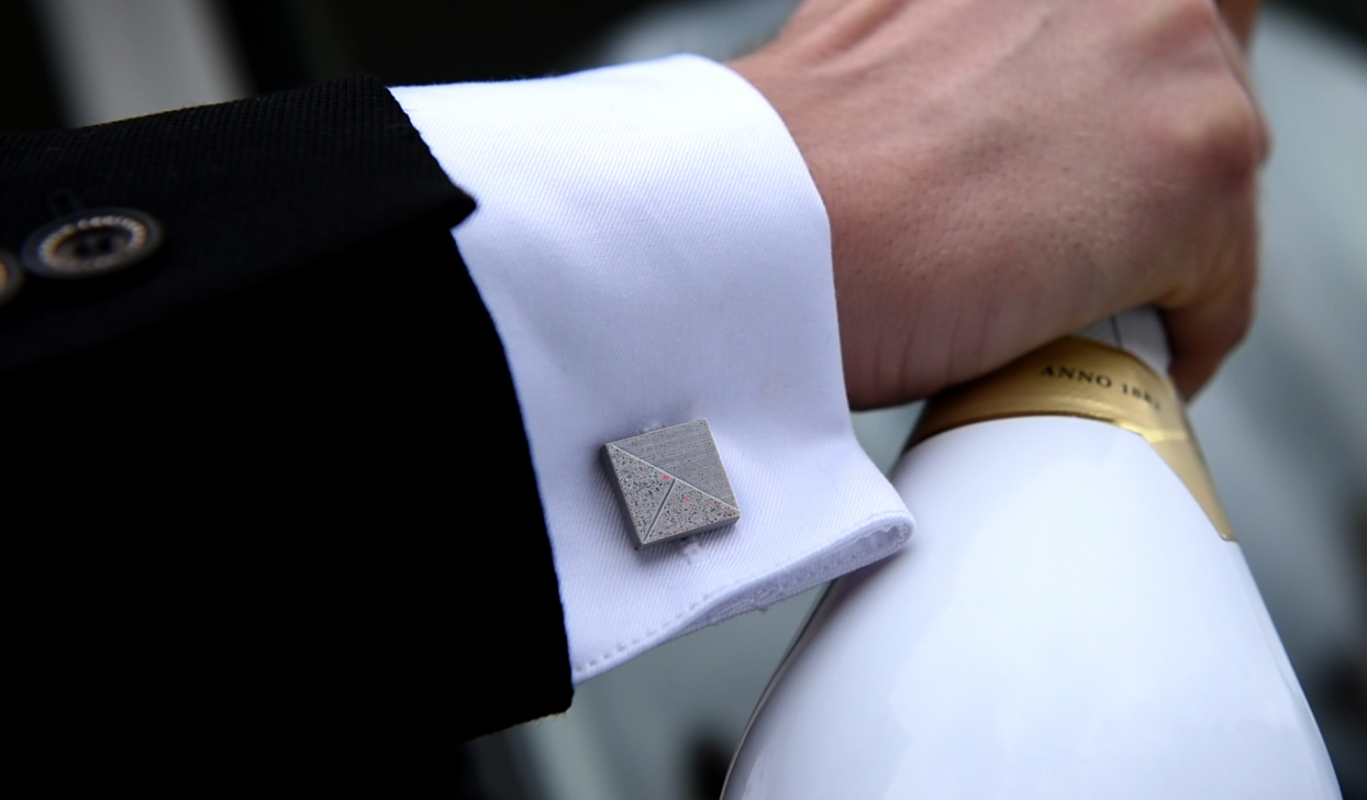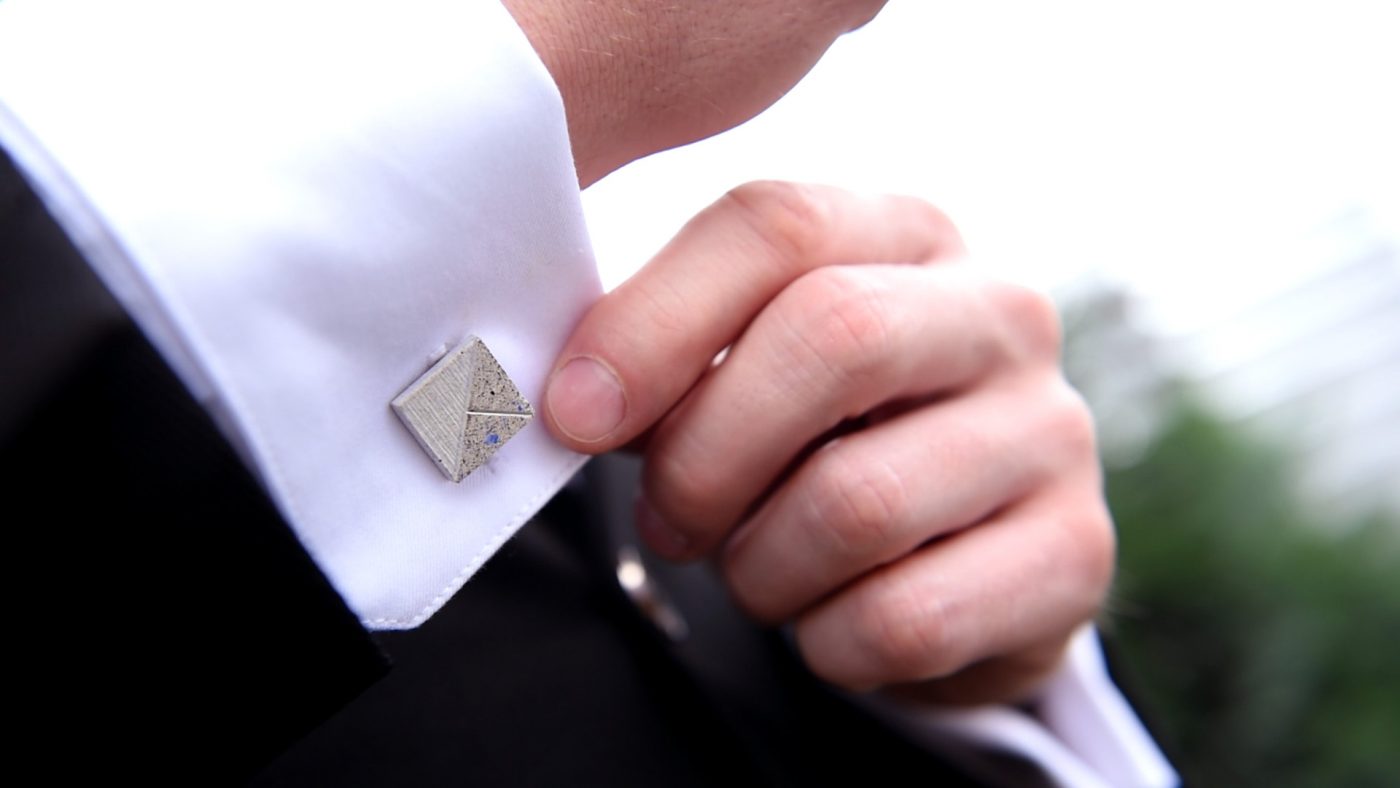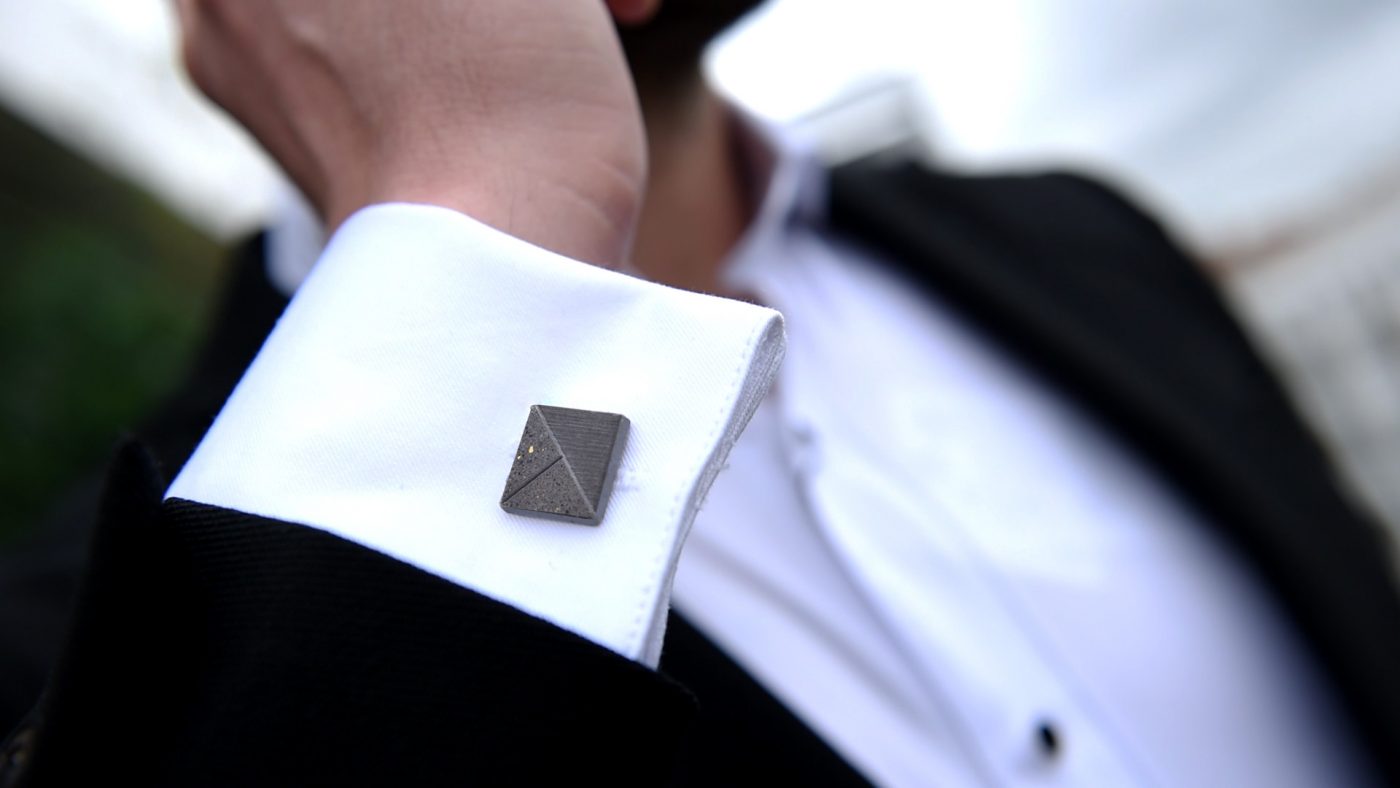 Designer's Thoughts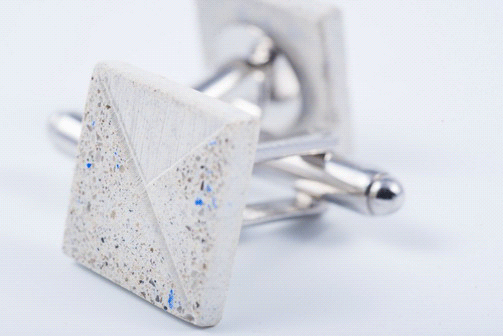 "Cufflinks are our most demanding products, that's why each piece is self-casting and grinding. During the material experiments on them I started to get acquainted with the terrazzo technique, which was a very important experience as a designer. I got immediately captivated by the one-time and unrepeatable pattern. Essentially, we see a segment of a material that has a number of unique components. I added tiny plastic particles to this, whose random shape and appearance makes the polished planes even more unique. The most exciting part of their production is when the colored parts appear during grinding. "
Anita Boldog, designer, CEO founder
Your firm's future business gifts are in talented hands
AB Concrete Design is Hungary's leading design concrete studio, founded by Anita Boldog in 2012. Our continuously expanding product range includes concrete jewelries, men's accessories, home decors and office equipment. For corporate customers, we provide concrete partner gifts and unique design solutions.
If you want an offer, please contact us at [email protected]; if you are looking for our products, visit our webshop!