To transform the lives of youth and poor communities using the developmental power of performance – this is the mission of the nonprofit All Stars Project, founded in 1981.
They create free, outside of school programs for inner-city youth and their families, which help them to develop using performance as a tool on stage and in life. 
The All Stars Project of the San Francisco Bay Area is bringing young people from some of the most isolated communities into the mainstream. Hundreds of volunteers – like leaders of the Bay Area's thriving business sector – from all walks of life help to reach young people. 
Our client had a strong vision of including the cityscape, the white silhouettes and the organization logo on the unique concrete awards. Combining these with the year and the names of the rewarded person, we created three different visualisation. The selected design was printed on clear acrylic panel and the special effect was achieved by using both sides of the sheet. On the concrete foundation the inscriptions were engraved and the project logo was printed.
According to feedbacks, our customers like design concrete as much as we do:

"Thanks again – you guys really do a great service."

"We got the trophies! They arrived safely and look amazing – everyone loves them – thank you!"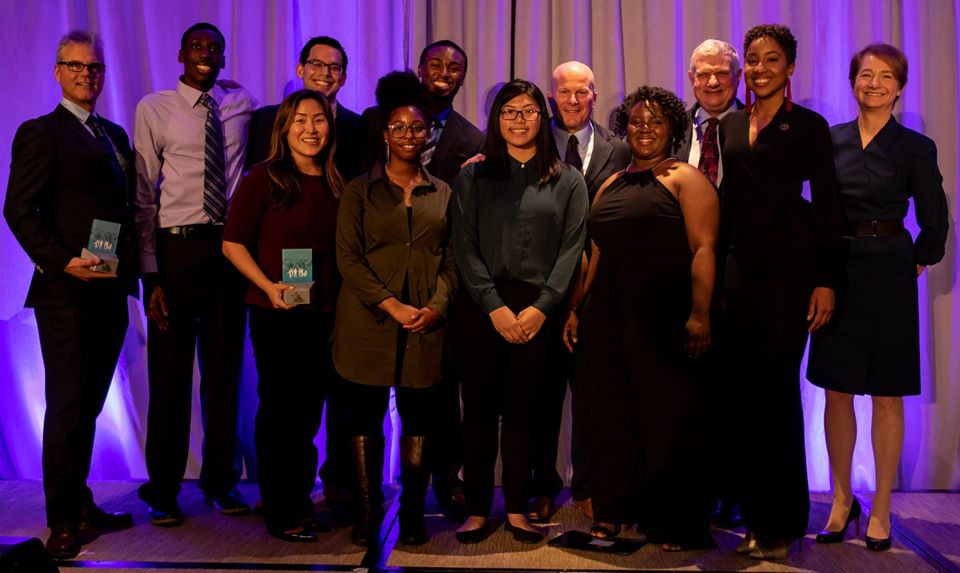 AB Concrete Design is Hungary's leading design concrete studio, founded by Anita Boldog in 2012. Our continuously expanding product range includes concrete jewelry, men's accessories, home decor and office equipment. For corporate customers, we provide concrete partner gifts and unique design solutions.
If you want an offer, please contact us at [email protected], if you are looking for our products, visit our webshop!